We worked through a collaborative process with our council members, Dental Assistants and other stakeholders to identify the attributes that make up our brand. We used what we heard to focus our brand on the most important aspects of our role:
We're here to protect the public, set standards for our profession, and empower our registrants to grow and succeed as Dental Assistants.
Our new brand portrays the strength, standards and support that are key to our role.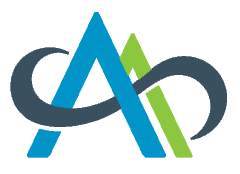 Our new logo represents a number of different attributes and visually symbolic elements. Its imagery portrays the mountains of Alberta tied together with flowing loops that create energy, movement and connection. It is an abstract representation of the CADA acronym with the flowing "C" and "D" binding the structure of the twin "A's" that they encompass.
Our blue, green and grey colours are contemporary classics. The green represents growth and energy, the blue reflects professionalism in the field of healthcare and the grey plays off the other colours as a solid base to represent our College as the regulatory body for the Dental Assistants of Alberta.